PVC Coated Wire Mesh Fence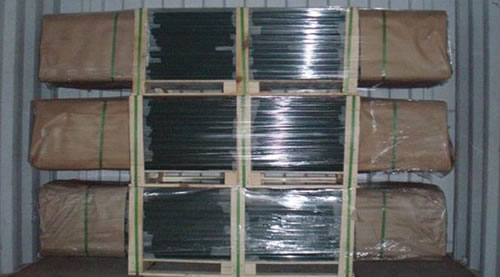 PVC Coated Metal Mesh Fence Panels
We supply a variety of mesh fences with plastic coating treatment.

General Introduction of PVC Coated Mesh Fence:

Material: High quality low carbon steel wire, high carbon steel wire, galvanized iron wire (Q195 & Q235)
Surface Treatment: Hot dipped galvanized, PVC coated, PE coated, Electro galvanized.

Hole Size: Square, Diamond and hexagonal.

Types: Welded mesh fence, hexagonal mesh fence, chain link fence and woven mesh fence.
Color: The wire fence has rich colors: Green RAL6005, Black RAL9005, Blue, Grey, Brown, Yellow etc colors as your request.
PVC Mesh Fence Widely used for prevention for road, highway, railway, garden, airport, residential district, seaport, feeding and husbandry, military base
Fence Panel Process: Wire Drawing Wire Straightening & Wire Cutting Welding Folds/Curves Bending Electric Galvanizing/Hot-dipped Galvanizing Parkerizing PVC Coating /Spraying Packing Loading
Fence Post Process: RawMaterial Cutting Hole Drilling Electro Galvanizing/Hot-dipped Galvanizing Sandblasting PVC Coating/Spraying Packing Loading
Package
Fence panel: Plastic film for every piece in bulk or Wooden/Metal Pallet
Fence post: Plastic film + Wooden/Metal Pallet
Accessories: In woven bags or Cardboard boxes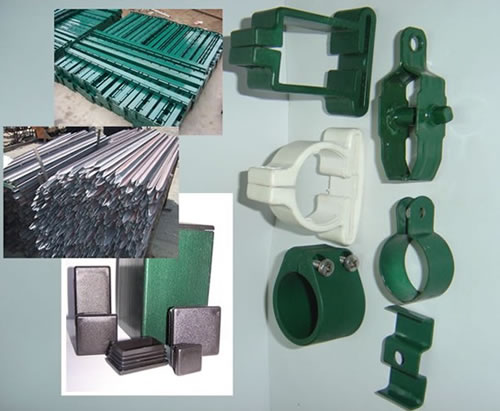 PVC Coated Fence Post
PVC coated chain link fence also named PVC coated diamond type wire mesh.
Material of chain link fence: Low carbon steel wire, stainless steel wire, aluminum alloy wire.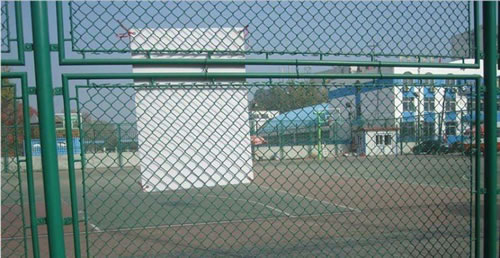 PVC Coated Chain link Fence used in school
Process: PVC coating
Finish:
a. Electric galvanizing
b. Hot-dip zinc plating
c. Stainless steel
d. PVC coated.
Opening
1"
1.5"
2"
2.25"
2.4"
2.5"
3"
4"
25mm
40mm
50mm
55mm
60mm
65mm
76mm
100mm
Wire diameter
18#-7#
1.20mm-5.00mm
Length of the roll
1.0m-50m
Width of the roll
0.5m-5.0m
Black Vinyl Coated Chain Link Fence makes ideal outdoor swimming pool fence panels. The vinyl coating adds more protection for the fence fabric from sunlight, acid water and other outdoor factors. We offers also black coated chain link fence gates to fit the fence system to make a beautiful yarn for you. With the bright color, black chain link fence fabric is much suitable for the yards, parks, zoos, pool security fencing, industrial zones compared to galvanized chain fencing and stainless steel chain-link fence. In addition, it costs low than other type materials. Fence materials are galvanized before steel, then plastic coated with black or green or other colors.
Applications:PVC vinyl coated chain link fence is mainly used as fences for playground and gardens, super highway, railway, airport, port, residence, etc. Chain link fence is also used in breeding of animals.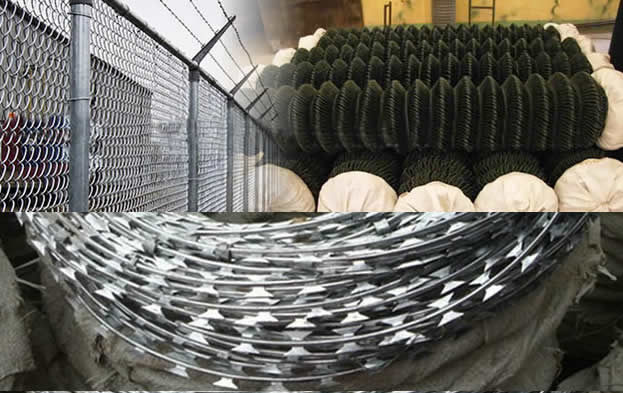 Chain Link Fence Panel Specifications
1. Wire Diameter: 3.55/4.75 mm, 2.50/3.55 mm, 2.24/3.15 mm, 1.70/2.50 mm. As the iron wire surface is with the vinyl coating.
2. Mesh Opening: 30mm - 60mm.
3. Fence Height: Common heights include 1m, 1.2m, 1.5m, 1.8m, 2m.
4. Package: The standard black chain link fence rolls length is 30m or 45m, special length can be available.
Chain Link Fence Uses:
1) As fences for playground, gardens, super highway, railway, airport, residence, etc.
2) AS fences to protect and support seawall, slope, road and bridge, reservoir and other civil engineering.
3) Link chain fence is also used in breeding of animals.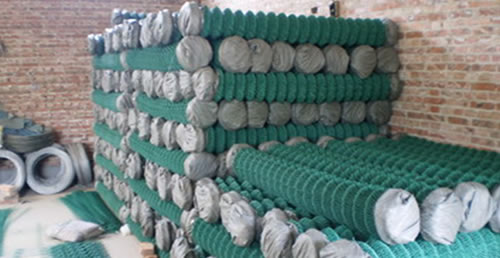 Chain Link Fence Roll